Update on Monday's Performance by the "President's Own" USMC Band
Note: The following post is from the Events page of the Bowdoin College website. Although advance tickets are no longer available through Bowdoin, I MAY be able to secure a ticket or two for BJH Band students/family members. 😮 Availability of tickets at this point is VERY limited, so email me ASAP if you are interested in attending! This will be an AMAZING concert!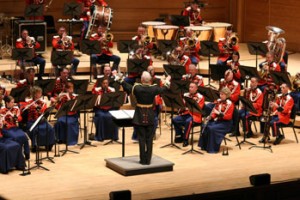 'The President's Own' – Performance by the United States Marine Band
Monday, October 15, 2012 • 7:30 p.m.
Farley Field House, Bowdoin College
Ticket Availability: Advance tickets are no longer available. If patrons wish to check on ticket availability at the door, a wait list will be started at 6:45 p.m. at Farley Field House the evening of the concert. However, it is not guaranteed that additional tickets will be available.
Price: Open to the public free of charge.
Doors open: Doors will open at 6:45 p.m. for the 7:30 p.m. concert.
Seating: Seating is general admission only and guests should arrive by 7:15 p.m. to guarantee a seat.