Parade Information!
The annual Brunswick/Topsham Memorial Day Parade is MONDAY, May 28.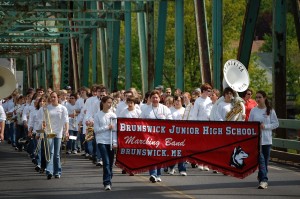 Here is some important information for all Band Students and Band Parents:
Parade shirts will be passed out on Friday. If you will NOT be in school on Friday, make sure you make other arrangements with Miss Anderson to get your shirt!
Our uniform is the BJH Marching Band long-sleeved t-shirt and BLACK pants (knee length or longer).
We will be leaving for the parade formation site from the Jr. High at 7:30 AM Monday morning. Remember that you should leave your case, coat, etc…at home or in your car when you get dropped off. Parade organizers have requested that ALL band members arrive at the formation site via our arranged bus transportation to cut down on traffic issues. Please be on time so you do not miss the bus!
The parade route has changed SLIGHTLY from previous years! We will be lining up on Second Street in Topsham instead of Mt. Ararat H.S. This will cut down on the marching distance!! 😀
We will be disbanding on Station Ave. in Brunswick (near the mall/ Hannaford). Please make arrangements to meet there (or another agreed upon spot) at the end of the parade. There are LOTS of people around. It will be hard to find parents/children unless you have a plan in place!!

The building will be locked after 4:00 PM on Friday!!! Please make sure you bring EVERYTHING you need for the parade home with you on Friday afternoon!!!!! We will NOT be able to get into the building for instruments, lyres, music, marching shirts, etc… on Monday! Plan accordingly!!!

If the weather is "questionable", I will update this website with a cancellation notice as soon as a decision is made.