All Town Band Concert!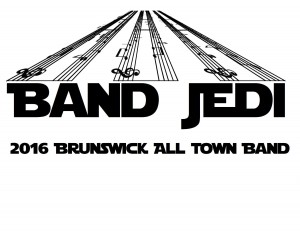 The annual Brunswick All Town Band Concert is Tuesday, May 10 in the Brunswick High School Gymnasium! The concert begins at 6:30. Musicians need to be in their seats ready to play at 5:45 for the run-through of the 5-12 combined piece. Doors will open for the audience at 6:00. The concert should last just over an hour.
Dress for the concert is "formal concert attire": black from the waist down, white dress shirts with sleeves.
Reminder that the 2016 version of the All Town Band commemorative T-shirt will be on sale in the lobby before and after the concert. Shirts are $10 each–we can take cash or a check! If we don't have the size you want, order forms will be available!