May 22 Brunswick All Town Porch Concert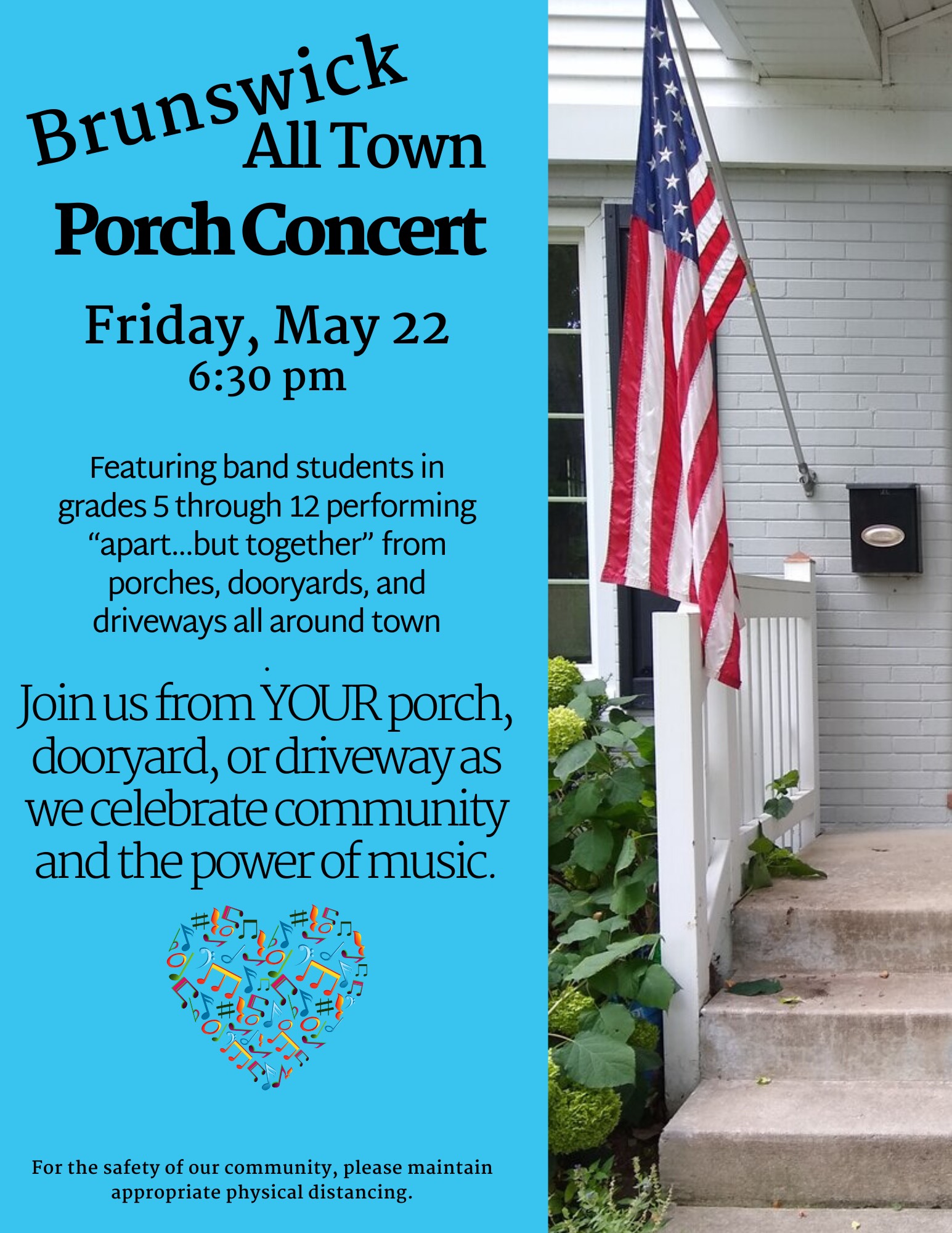 We are excited about the positive response to our All Town Porch Concert on May 22!
We've had quite a few requests from community members "not currently enrolled" in a Brunswick School Department Band for music for the piece that we are all playing "together–but apart" (America–at 6:30 PM). Feel free to download whichever parts you need from the link below. It's a very simple 2-part arrangement in the key of Bb to make it accessible for all musicians. If you can't find a part that will work for you, feel free to email handerson@brunswick.k12.me.us or bduras@brunswick.k12.me.us. We'll see what we can do!
Just a reminder about the format of the concert:
At 6:30 PM, ALL musicians will play "America" (parts linked below) together from their porch, doorway, or yard–maintaining appropriate physical distancing from neighbors, please! If there are a number of musicians in your neighborhood, it might be helpful for someone to "count-off" so that everyone can start together! 😉 😀
After we all play America together, the remainder of the concert will be very "organic". There is no set program or suggested music. We are just encouraging everyone to play! We ask that you try to "coordinate" as much as possible so that we aren't "doing our own thing" all at the same time! It will make the concert much more enjoyable for the audience!
We encourage families to play small ensemble pieces together–or even with next-door neighbors (just remember to stay in your OWN yards please!!) We are all missing "playing together".
Please continue to "spread the word"! We'd love to have ALL of our community's musicians participating!
Thanks again for your support!
Parts- America (My Country Tis' of Thee), 2 part arrangement in Bb