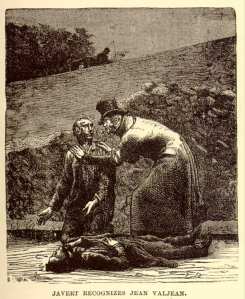 War Between Four Walls
1.  Why can Enjolras only save four men?
2.  How does John Valjean save the fifth man?
3.  How does Gavroche's and Eponine's deaths ironically fulfill Pontmercy's request of Marius?
4.  What are the orders concerning Javert; why does Jean Valjean contradict these orders?
5.  What white vision does Marius see?
6.  How do jean Valjean and Marius escape?
Mire, but Soul
1.  Describe the fontis.
2.  What deal does Thenardier want to make with Jean Valjean?
4.  What does Javert do to assist Jean Valjean and Marius?
Javert, Off the Track
1.  What conflict is prostrating Javert?
2.  Identify references to the color black and darkness in this chapter; how are these references symbolic?
The Grandson and the Grandfather
1.  Who comes to visit Marius daily and what does the man leave?
2.  What request does M. Gillenormand make of Jean Valjean?
3.  What good news does Jean Valjean's package contain?
4.  What arrangements did Jean Valjean make concerning Cosette's background?
5.  What information does Marius learn about the man who saved him?
The White Night
1.  What moral dilemma does jean Valjean consider throughout the evening?
2.  What information does Jean Valjean give Marius?
3.  Why does Marius consider Cosette an angel and Jean Valjean a demon?
The Twilight Zone
1.  How has the relationship between Jean Valjean and Cosette changed?
Supreme Shadow, Supreme Dawn
1.  Why is Jean Valjean ill?
2. How long has it been since Jean Valjean has visited Cosette?
3.  What is Jean Valjean's last wish?
4.  How does Thenardier's visit with Marius reveal the truth?
5.  Where is Marius sending Thenardier: what becomes of Thenardier?
6.  What is the final White Vision and what does it symbolize?
7.  Describe Jean Valjean's grave.