Advice to Youth by Mark Twain
Advice to Youth
by Mark Twain (1835-1910)
Being told I would be expected to talk here, I inquired what sort of talk I ought to make. They said it should be something suitable to youth–something didactic, instructive, or something in the nature of good advice. Very well. I have a few things in my mind which I have often longed to say for the instruction of the young; for it is in one's tender early years that such things will best take root and be most enduring and most valuable. First, then. I will say to you my young friends–and I say it beseechingly, urgingly–Always obey your parents, when they are present. This is the best policy in the long run, because if you don't, they will make you. Most parents think they know better than you do, and you can generally make more by humoring that superstition than you can by acting on your own better judgment.
Be respectful to your superiors, if you have any, also to strangers, and sometimes to others. If a person offend you, and you are in doubt as to whether it was intentional or not, do not resort to extreme measures; simply watch your chance and hit him with a brick. That will be sufficient. If you shall find that he had not intended any offense, come out frankly and confess yourself in the wrong when you struck him; acknowledge it like a man and say you didn't mean to. Yes, always avoid violence; in this age of charity and kindliness, the time has gone by for such things. Leave dynamite to the low and unrefined.
Go to bed early, get up early–this is wise. Some authorities say get up with the sun; some say get up with one thing, others with another. But a lark is really the best thing to get up with. It gives you a splendid reputation with everybody to know that you get up with the lark; and if you get the right kind of lark, and work at him right, you can easily train him to get up at half past nine, every time–it's no trick at all.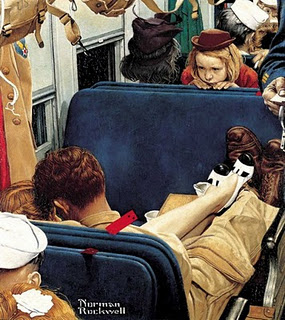 Now as to the matter of lying. You want to be very careful about lying; otherwise you are nearly sure to get caught. Once caught, you can never again be in the eyes to the good and the pure, what you were before. Many a young person has injured himself permanently through a single clumsy and ill finished lie, the result of carelessness born of incomplete training. Some authorities hold that the young ought not to lie at all. That of course, is putting it rather stronger than necessary; still while I cannot go quite so far as that, I do maintain, and I believe I am right, that the young ought to be temperate in the use of this great art until practice and experience shall give them that confidence, elegance, and precision which alone can make the accomplishment graceful and profitable. Patience, diligence, painstaking attention to detail–these are requirements; these in time, will make the student perfect; upon these only, may he rely as the sure foundation for future eminence. Think what tedious years of study, thought, practice, experience, went to the equipment of that peerless old master who was able to impose upon the whole world the lofty and sounding maxim that "Truth is mighty and will prevail"–the most majestic compound fracture of fact which any of woman born has yet achieved. For the history of our race, and each individual's experience, are sewn thick with evidences that a truth is not hard to kill, and that a lie well told is immortal. There is in Boston a monument of the man who discovered anesthesia; many people are aware, in these latter days, that that man didn't discover it at all, but stole the discovery from another man. Is this truth mighty, and will it prevail? Ah no, my hearers, the monument is made of hardy material, but the lie it tells will outlast it a million years. An awkward, feeble, leaky lie is a thing which you ought to make it your unceasing study to avoid; such a lie as that has no more real permanence than an average truth. Why, you might as well tell the truth at once and be done with it. A feeble, stupid, preposterous lie will not live two years–except it be a slander upon somebody. It is indestructible, then of course, but that is no merit of yours. A final word: begin your practice of this gracious and beautiful art early–begin now. If I had begun earlier, I could have learned how.
Never handle firearms carelessly. The sorrow and suffering that have been caused through the innocent but heedless handling of firearms by the young! Only four days ago, right in the next farm house to the one where I am spending the summer, a grandmother, old and gray and sweet, one of the loveliest spirits in the land, was sitting at her work, when her young grandson crept in and got down an old, battered, rusty gun which had not been touched for many years and was supposed not to be loaded, and pointed it at her, laughing and threatening to shoot. In her fright she ran screaming and pleading toward the door on the other side of the room; but as she passed him he placed the gun almost against her very breast and pulled the trigger! He had supposed it was not loaded. And he was right–it wasn't. So there wasn't any harm done. It is the only case of that kind I ever heard of. Therefore, just the same, don't you meddle with old unloaded firearms; they are the most deadly and unerring things that have ever been created by man. You don't have to take any pains at all with them; you don't have to have a rest, you don't have to have any sights on the gun, you don't have to take aim, even. No, you just pick out a relative and bang away, and you are sure to get him. A youth who can't hit a cathedral at thirty yards with a Gatling gun in three quarters of an hour, can take up an old empty musket and bag his grandmother every time, at a hundred. Think what Waterloo would have been if one of the armies had been boys armed with old muskets supposed not to be loaded, and the other army had been composed of their female relations. The very thought of it make one shudder.
There are many sorts of books; but good ones are the sort for the young to read. Remember that. They are a great, an inestimable, and unspeakable means of improvement. Therefore be careful in your selection, my young friends; be very careful; confine yourselves exclusively to Robertson's Sermons, Baxter's Saint's Rest, The Innocents Abroad, and works of that kind.
But I have said enough. I hope you will treasure up the instructions which I have given you, and make them a guide to your feet and a light to your understanding. Build your character thoughtfully and painstakingly upon these precepts, and by and by, when you have got it built, you will be surprised and gratified to see how nicely and sharply it resembles everybody else's.
(1882)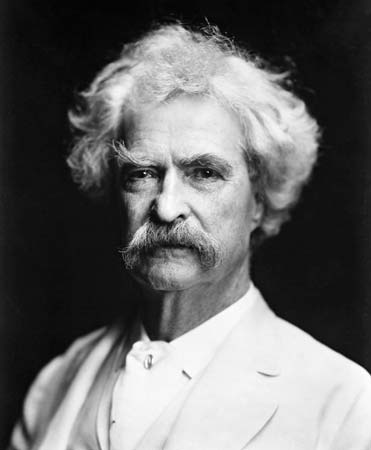 Of the Passing of the First Born by W.E.B. Dubois
The first African American to earn a Ph.D. at Harvard, W.E.B. Du Bois went on to become a professor of economics and history at Atlanta University and the University of Pennsylvania. He was co-founder of the National Association for the Advancement of Colored People (the NAACP) and for over two decades edited its magazine, Crisis.
This moving recollection of the birth and death of his son originally appeared as Chapter 11 of Du Bois's revolutionary essay collection, The Souls of Black Folk, published in 1903.
Of the Passing of the First-Born
by W.E.B. Du Bois
0 sister, sister, thy first-begotten,
The hands that cling and the feet that follow,
The voice of the child's blood crying yet,
Who hath remembered me? who hath forgotten?
Thou hast forgotten, O summer swallow,
But the world shall end when I forget.
–Swinburne
"Unto you a child is born," sang the bit of yellow paper that fluttered into my room one brown October morning. Then the fear of fatherhood mingled wildly with the joy of creation; I wondered how it looked and how it felt–what were its eyes, and how its hair curled and crumpled itself. And I thought in awe of her–she who had slept with Death to tear a man-child from underneath her heart, while I was unconsciously wandering. I fled to my wife and child, repeating the while to myself half wonderingly, "Wife and child? Wife and child?"–fled fast and faster than boat and steam-car, and yet must ever impatiently await them; away from the hard-voiced city, away from the flickering sea into my own Berkshire Hills that sit all sadly guarding the gates of Massachusetts.
Up the stairs I ran to the wan mother and whimpering babe, to the sanctuary on whose altar a life at my bidding had offered itself to win a life, and won. What is this tiny formless thing, this newborn wail from an unknown world–all head and voice? I handle it curiously, and watch perplexed its winking, breathing, and sneezing. I did not love it then; it seemed a ludicrous thing to love; but her I loved, my girl-mother, she whom now I saw unfolding like the glory of the morning–the transfigured woman.
Through her I came to love the wee thing, as it grew and waxed strong; as its little soul unfolded itself in twitter and cry and half-formed word, and as its eyes caught the gleam and flash of life. How beautiful he was, with his olive-tinted flesh and dark gold ringlets, his eyes of mingled blue and brown, his perfect little limbs, and the soft voluptuous roll which the blood of Africa had moulded into his features! I held him in my arms, after we had sped far away to our Southern home–held him, and glanced at the hot red soil of Georgia and the breathless city of a hundred hills, and felt a vague unrest. Why was his hair tinted with gold? An evil omen was golden hair in my life. Why had not the brown of his eyes crushed out and killed the blue?–for brown were his father's eyes, and his father's father's. And thus in the Land of the Color-line I saw, as it fell across my baby, the shadow of the Veil.
Within the Veil was he born, said I; and there within shall he live–a Negro and a Negro's son. Holding in that little head–ah, bitterly!–the unbowed pride of a hunted race, clinging with that tiny dimpled hand–ah, wearily!–to a hope not hopeless but unhopeful, and seeing with those bright wondering eyes that peer into my soul a land whose freedom is to us a mockery and whose liberty a lie. I saw the shadow of the Veil as it passed over my baby, I saw the cold city towering above the blood-red land. I held my face beside his little cheek, showed him the star-children and the twinkling lights as they began to flash, and stilled with an even-song the unvoiced terror of my life.
So sturdy and masterful he grew, so filled with bubbling life, so tremulous with the unspoken wisdom of a life but eighteen months distant from the All-life–we were not far from worshiping this revelation of the divine, my wife and I. Her own life builded and moulded itself upon the child; he tinged her every dream and idealized her every effort. No hands but hers must touch and garnish those little limbs; no dress or frill must touch them that had not wearied her fingers; no voice but hers could coax him off to Dreamland, and she and he together spoke some soft and unknown tongue and in it held communion. I too mused above his little white bed; saw the strength of my own arm stretched onward through the ages through the newer strength of his; saw the dream of my black fathers stagger a step onward in the wild phantasm of the world; heard in his baby voice the voice of the Prophet that was to rise within the Veil.
And so we dreamed and loved and planned by fall and winter, and the full flush of the long Southern spring, till the hot winds rolled from the fetid Gulf, till the roses shivered and the still stern sun quivered its awful light over the hills of Atlanta. And then one night the little feet pattered wearily to the wee white bed, and the tiny hands trembled; and a warm flushed face tossed on the pillow, and we knew baby was sick. Ten days he lay there–a swift week and three endless days, wasting, wasting away. Cheerily the mother nursed him the first days, and laughed into the little eyes that smiled again. Tenderly then she hovered round him, till the smile fled away and Fear crouched beside the little bed.
Then the day ended not, and night was a dreamless terror, and joy and sleep slipped away. I hear now that Voice at midnight calling me from dull and dreamless trance–crying, "The Shadow of Death! The Shadow of Death!" Out into the starlight I crept, to rouse the gray physician–the Shadow of Death, the Shadow of Death. The hours trembled on; the night listened; the ghastly dawn glided like a tired thing across the lamplight. Then we two alone looked upon the child as he turned toward us with great eyes, and stretched his string-like hands–the Shadow of Death! And we spoke no word, and turned away.
He died at eventide, when the sun lay like a brooding sorrow above the western hills, veiling its face; when the winds spoke not, and the trees, the great, green trees he loved, stood motionless. I saw his breath beat quicker and quicker, pause, and then his little soul leapt like a star that travels in the night and left a world of darkness in its train. The day changed not; the same tall trees peeped in at the windows, the same green grass glinted in the setting sun. Only in the chamber of death writhed the world's most piteous thing–a childless mother.
I shirk not. I long for work. I pant for a life full of striving. I am no coward, to shrink before the rugged rush of the storm, nor even quail before the awful shadow of the Veil. But hearken, O Death! Is not this my life hard enough–is not that dull land that stretches its sneering web about me cold enough–is not all the world beyond these four little walls pitiless enough, but that thou must needs enter here–thou, O Death? About my head the thundering storm beat like a heartless voice, and the crazy forest pulsed with the curses of the weak; but what cared I, within my home beside my wife and baby boy? Wast thou so jealous of one little coign of happiness that thou must needs enter there–thou, O Death?
A perfect life was his, all joy and love, with tears to make it brighter–sweet as a summer's day beside the Housatonic. The world loved him; the women kissed his curls, the men looked gravely into his wonderful eyes, and the children hovered and fluttered about him. I can see him now, changing like the sky from sparkling laughter to darkening frowns, and then to wondering thoughtfulness as he watched the world. He knew no color-line, poor dear–and the Veil, though it shadowed him, had not yet darkened half his sun. He loved the white matron, he loved his black nurse; and in his little world walked souls alone, uncolored and unclothed. I–yea, all men–are larger and purer by the infinite breadth of that one little life. She who in simple clearness of vision sees beyond the stars said when he had flown, "He will be happy There; he ever loved beautiful things." And I, far more ignorant, and blind by the web of mine own weaving, sit alone winding words and muttering, "If still he be, and he be There, and there be a There, let him be happy, O Fate!"
Blithe was the morning of his burial, with bird and song and sweet-smelling flowers. The trees whispered to the grass, but the children sat with hushed faces. And yet it seemed a ghastly unreal day–the wraith of Life. We seemed to rumble down an unknown street behind a little white bundle of posies, with the shadow of a song in our ears. The busy city dinned about us; they did not say much, those pale-faced hurrying men and women; they did not say much–they only glanced and said, "Niggers!"
We could not lay him in the ground there in Georgia, for the earth there is strangely red; so we bore him away to the northward, with his flowers and his little folded hands. In vain, in vain!–for where, O God! beneath thy broad blue sky shall my dark baby rest in peace–where Reverence dwells, and Goodness, and a Freedom that is free?
A11 that day and all that night there sat an awful gladness in my heart–nay, blame me not if I see the world thus darkly through the Veil–and my soul whispers ever to me, saying, "Not dead, not dead, but escaped; not bond, but free." No bitter meanness now shall sicken his baby heart till it die a living death, no taunt shall madden his happy boyhood. Fool that I was to think or wish that this little soul should grow choked and deformed within the Veil! I might have known that yonder deep unworldly look that ever and anon floated past his eyes was peering far beyond this narrow Now. In the poise of his little curl-crowned head did there not sit all that wild pride of being which his father had hardly crushed in his own heart? For what, forsooth, shall a Negro want with pride amid the studied humiliations of fifty million fellows? Well sped, my boy, before the world had dubbed your ambition insolence, had held your ideals unattainable, and taught you to cringe and bow. Better far this nameless void that stops my life than a sea of sorrow for you.
Idle words; he might have borne his burden more bravely than we–aye, and found it lighter too, some day; for surely, surely this is not the end. Surely there shall yet dawn some mighty morning to lift the Veil and set the prisoned free. Not for me–I shall die in my bonds–but for fresh young souls who have not known the night and waken to the morning; a morning when men ask of the workman, not "Is he white?" but "Can he work?" When men ask artists, not "Are they black?" but "Do they know?" Some morning this may be, long, long years to come. But now there wails, on that dark shore within the Veil, the same deep voice, Thou shalt forego! And all have I foregone at that command, and with small complaint–all save that fair young form that lies so coldly wed with death in the nest I had builded.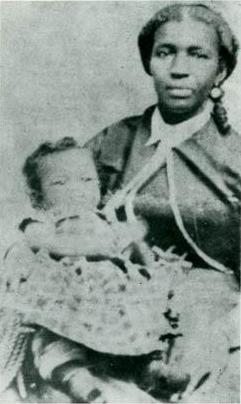 If one must have gone, why not I? Why may I not rest me from this restlessness and sleep from this wide waking? Was not the world's alembic, Time, in his young hands, and is not my time waning? Are there so many workers in the vineyard that the fair promise of this little body could lightly be tossed away? The wretched of my race that line the alleys of the nation sit fatherless and unmothered; but Love sat beside his cradle, and in his ear Wisdom waited to speak. Perhaps now he knows the All-love, and needs not to be wise. Sleep, then, child–sleep till I sleep and waken to a baby voice and the ceaseless patter of little feet–above the Veil.