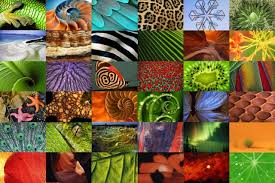 For our printmaking project, you will carve a linoleum block print inspired by a pattern found in the natural world.  You will then learn about the printmaking process and experiment with a variety of printing techniques.  In the end, you will create a series of 6 prints, selecting at least 3 to put on display.
First, a quick game to see if you can figure out where these patterns are found in nature:
Check out these websites to find photos of different patterns found in nature.  Use these to complete the first sketching worksheet:
National Geographic     Photographers from National Geographic are some of the premier nature photographers in the world.
Curious to see how other types of artists use patterns found in nature?  Check out the work of Angela Adams, a Maine textile designer who uses the Maine landscape as inspiration: