In this unit you will increase your skills in drawing realistically.  Drawing is the foundation of much art as well as design work.  Learning to drawing focuses our observation skills and understanding of the world around us.  Like all skills, drawing is one that has to be learned and practiced.
There is a choice of three different drawing projects that allow students to work on the drawing skills that are of most interest to them.  Before selecting a project, we all examine all three drawing skills in class.
Choice #1
Still Life Drawing
Drawing objects from life is a traditional method that artists use to sharpen their skills in drawing.  The skills emphasized in this project are contour and shading.
Still life drawing can be pencil with shading or contour drawings finished with watercolor.  For this project you will select 3 objects that you will be able to look at while drawing.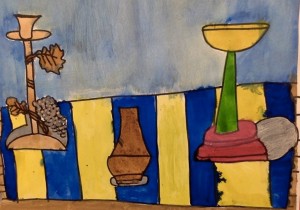 Choice #2
Scratch Art Animal
Animals have always been a popular image found in drawings and paintings.  In order to draw animals it is important to be able to describe the surface texture of the animals in artistic terms.  In this project, you will learn to create texture using a technique called scratch art.
Choice #3
2- Point Perspective City
2 Point perspective is a graphical technique in which a three-dimensional object is represented in two dimensions, and in which parallel lines in two of its dimensions are shown to converge towards two vanishing points.
Grade Assignments
Practice: Still life drawing (Classwork)
Practice:  Texture Worksheet and scratch art (Classwork)
Practice: 2 Point Perspective (Classwork)
Final Drawing (Project Grade)