Non-Representational Art
Meaning is understood in nonrepresentational art as a pure expression by the artist of emotion or subjective experience.
Nonrepresentational work refers to art that does not attempt to represent or reference reality.
In the late 19th century, artists began to move toward increasing abstraction as a means of communicating subjective experience more personally and creatively.
Artists such as Kandinsky and Mondrian viewed art as an expression of spirituality.
Vocabulary:
nonrepresentationalNot intended to represent a physical object in reality.
expressionism A movement in the arts in which the artist does not depict objective reality, but rather a subjective expression of inner experience.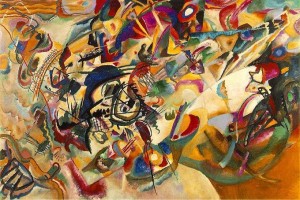 Composition 5 by Wassily Kandinsky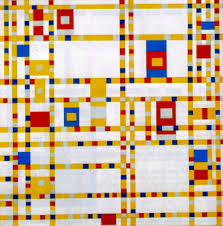 Broadway Boogie Woogie By Piet Mondrian
Here is the link to experiment with Non-representational painting: Bomomo
Here are some pieces of music that you can use for your artwork that is inspired by music:
Cee lo Green/ Daryl Hall I can't go for that
Happy Pharrell Williams
Sun in the Night by Brand X
Lady Smith Black Mambazo
Crazy Train by Ozzy
Eclipse by Pink Floyd
The Force Awakens/ Star Wars
Waltz of Snowflakes
Beethovens 5th Symphony