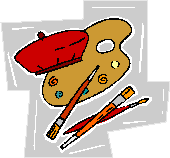 Welcome to Ms. Moll's website.
Click to email Ms. Moll
News:
Art Projects to Do at Home
You can create things with your family or friends. Take a picture of your project when it is done and email to me.
1. Build a Fairy House – Collect sticks, pine cones, acorns plus other things and create little houses. You can build it inside or outside.
Click for Ideas for Fairy House (PDF)
2. Color in a famous artist's picture
Click for Color Famous Artist Pictures (PDF)
3. Draw your name with colorful and funny letters
Click to Spell Your Name (PDF)