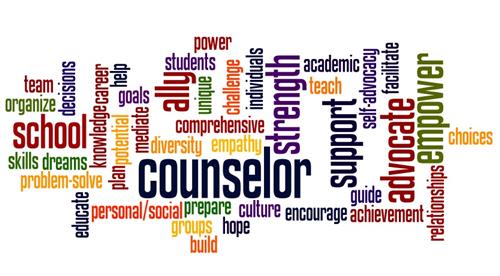 The counseling department provides a variety of comprehensive services for our students and community. These include individual counseling, small group counseling, classroom lessons, consultation and collaboration with staff, parents, and the community, crisis intervention, safety planning and reporting, and any necessary referrals to outside services.
Individual counseling– Students in need of support can expect our counselors to use both a systems-oriented and strengths based approach. This means understanding the fact that students live within an environment that they must constantly and effectively adapt to. As counselors we seek to learn about and understand the system each student comes from in conjunction with supporting current social and emotional needs. In addition to this, we believe helping students discover their strengths as the single most effective tool in allowing them to discover their path to success.
Counseling is provided on an as needed basis. Students can self-refer by checking in with us in the counseling office. Staff and parents/caregivers can refer a child to us as well. We will meet with students weekly as needed, but if/when a student requires long-term counseling, we may suggest a referral to our school-based clinicians or an outside counselor.
Small group counseling– Our counseling groups can focus on a variety of topics based on need. Some students are included because of parent requests, others because they could benefit from positive social interactions at school, and some because they are great role models for their peers. The groups meet for 45 minutes weekly for eight weeks. Generally we meet during lunch, study hall, or another time in the day when students will not be missing core academic work. If your child is selected to participate in a group, we will provide you with advance notice.
Classroom guidance lessons– As school counselors, we provide large group lessons at each grade level. Topics covered in classroom lessons include, stress and time management, conflict resolution, internet safety, careers, and personal safety.
As counselors, our ultimate goal is to provide personal and educational support to all students. By contributing to the many elements of the school counseling program, we hope to promote student success in a way that benefits the school community as a whole.