Good morning all,
I hope you are having a wonderful week! We have a great deal of performance/ rehearsal info to go over so I wanted to make sure you are all set for upcoming date. Here are the items for you to be aware of:
CONGRATULATIONS!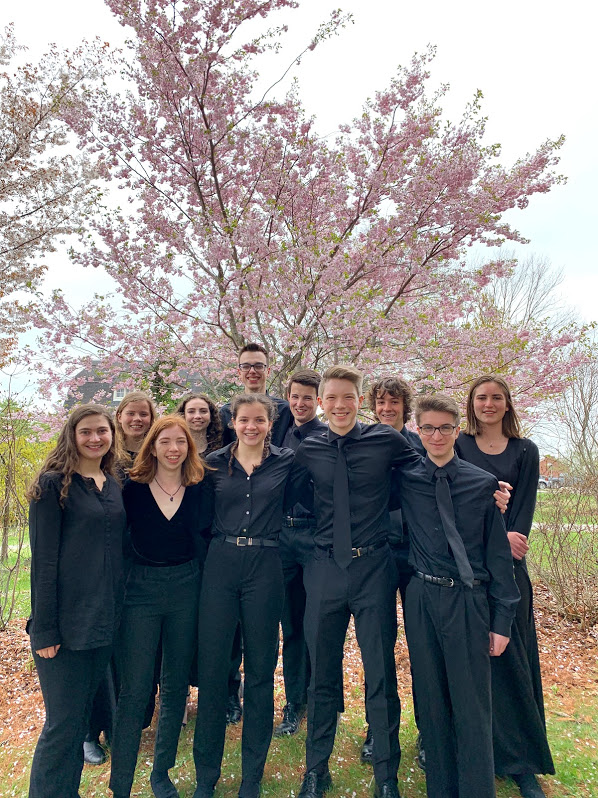 A HUGE congratulations go out to all the members of the 2018-2019 All State Honors Band and Orchestra. I have attached a picture. Missing is Anna Parker so, I substituted a girl named Anna that I know in her place 😊 The concert was FABULOUS!!! The second piece by the orchestra was breathtaking. I am so proud of all of our students. They spent the weekend making music with some of the finest players in the State! You should be so proud of their accomplishments!
CALENDAR
Thursday, 5/23/19
7:00 a.m – Morning Band
6:00 p.m – Thursday Jazz
Friday, 5/24/19
7:00 a.m – Morning Band
Monday, 5/27/19
7:00 a.m – Memorial Day Parade!!!!!
Who: All Band Students
What: Memorial Day Parade
Where: Topsham/ Brunswick
When: All students should report to BHS for 7 a.m
Pickup will be at Maine Street Station around 11:30
There will be NO return transportation to BHS
Why: To be a part of a very special event for the town of Brunswick!
Other important info:
Dress attire: Black Dress Pants, Black Marching Shoes (or Dress shoes), Orange Polo shirts, Black Socks
Orange polo shirts will be distributed over the next few weeks in rehearsal.
Black dress shoes can be obtained from Mr. Scarpone
Sneakers will not be allowed.
THIS IS SUCH an important event! As I have told the kids, this counts as 1/3 of their final grade. We are very proud of our parade and the importance it serves in the community! Thank you for making it a priority to your students.
Tuesday, May 28th
7:00 a.m – Morning Band
5:30 p.m – Tuesday Prime
6:00 p.m – Tuesday Jazz
Wednesday, May 29th
7:00 a.m – Morning Band
5:15 p.m – Concert Call – Wind Ensemble
5:45 p.m – Concert Call – Concert Band
6:30 p.m – Doors open!
7:00 p.m – SPRING CONCERT! ** MORE DETAILS WILL FOLLOW **
Concert Dress Reminder!
Guys – Black Vest, Black Dress Pants, White Tux Shirt, Black Socks (PERCUSSION – I'M LOOKING AT YOU!!!), Button Cover, Black Dress Shoes
Ladies – Black Dress, Black socks or nylons, Black Dress Shoes
UPCOMING FUNDRAISERS
May 25th, 2019 – Car Wash @ 7-Eleven on Maine Street
8:00 a.m – 2:00 p.m
https://www.signupgenius.com/go/60B0C4CABA722A5FE3-bhsmusic
This is one of the most enjoyable fundraisers we do! We need as many people as possible to come assist! Please take a moment to sign up on the sign up genius to help. Heck…there will even be donuts 😊 In all seriousness, we have a great time at the car wash and we hope to raise a significant amount of money for the program.
June 1st, 2019 – PANERA BREAD FUNDRAISER!!!
4:00 p.m – 8:00 p.m
We get 20% of all sales for the day as long as we make at least $100.
There will be a flyer but you can also just mention the music department fundraiser that night
JAZZ NIGHT
Jazz Night is QUICKLY approaching! Below is all the information you need for jazz night:
WHO: all students in Tuesday, Tuesday Prime, and Thursday Jazz
WHAT: The Annual Spring Jazz Night
WHERE: United Methodist Church, Brunswick
Address: 320 Church Rd, Brunswick, ME 04011
Phone: (207) 725-2185
WHEN: Wednesday, June 12th, 7:00 p.m
WHY: To share with the community all that we have worked on in the past month and change.
OTHER DETAILS:
CONCERT ATTIRE REMINDER!
Men: BLACK (not dark grey, trumpets) Suits, white dress shirt, solid color tie, black dress shoes, black dress socks
Ladies: All Black
I believe that is all I have for this week! As always, thank you for all you do to support our students and the music program! Have a wonderful day!
~ Mike