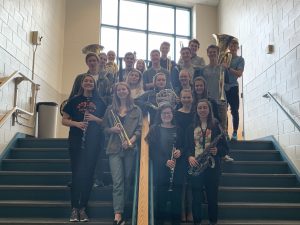 I wanted to Congratulate the following Band students who were recently inducted into the National Honors Society. They are:
Great Anesko
Izzy Banks
Tasha Barnhart
Eli Carney
Grace Casey
Andrew Chingos
Darien Gillespie
Macy Grant
Lexi Guptill
Chappy Hall
Alec Hess
Kristen Hummer
Ben Israel
Caitlin Kelly
Liberty Krauss
Mitch Lienert
Josh Musica
Connor Ney
Mallory "Gurgles" Palmer
Anna Parker
Abby Powers
Will Shaughnessy
Coenradt Taylor
Ella Tycz
Maddie Wayne
We are so proud of all of your accomplishments and so pleased to have so many Band Students as new members (of the 38 new inductees, 25 are members of the band program)
Congratulations to these wonderful people!
Happy Monday!!!!
~ Mike