This year we are very fortunate to have Mrs. Morin c0-teaching in a couple of class sections. She and I have already planned lessons together to help your child become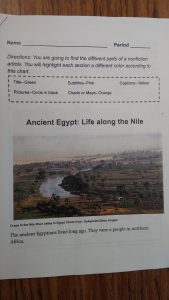 even more proficient readers and writers of informational text.
On Monday, Mrs. Morin joined us as we introduced a pre-reading technique: previewing the text. Together we highlighted some of the common text elements of a nonfiction article, including subtitles, captions, pictures, maps and charts. Students then searched an article about ancient Egypt for them, color coding according to category. Based on the features they found, they made predictions about what they would learn when they actually read the article. By previewing an article students can anticipate what information they'll find, which often increases their comprehension of fact rich text.